Educause 2017 Annual Conference
I am glad to be at #edu17 this week doing a poster today on @iulibraries#Imago specimen repository. That is today at 12:45 in Exhibit Hall A-C Level 200 in the Philadelphia Convention Center. See poster. See below where I am putting up my poster. Thanks to Kent from@ucmerced for the assist.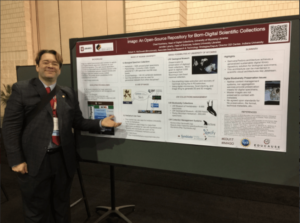 This morning I got to hear Michio Kaku the futurist. He had some interesting things to say about the 4th Wave of Technology. I want to be a full time futurist too.